I wish I could say I kept up with posting, but 2016 was a tumultuous year for 250cc Superhero. I'm sorry to admit there was comparatively little in the way of extended two-wheeled travel for me to report. To catch up on the plot and other life happenings, click on for cliff notes – illustrated, even!
Last we left off
, I was well into the swing of BJJ at Alliance in Atlanta. There were some
schemes to ride from Austin to Vegas with a boyfriend
(hi, Fred) on his 50 year old Vespa. Once we got to the
High Rollers rally
, an
update was posted
: I continued to the Pacific coast, and Serenity was going dormant in San Francisco. I would return to Atlanta to buy my friend, Michael's, PX200. Fred met me there, and we spent a happy week readying my new east coast ride for a journey up the Blue Ridge Parkway to CORSette, Dogwood Classic 13, and New England.
That's when things went sideways, quite literally.
Dramatized for effect. I don't actually remember what happened.
On April 10th, after a route planning session with Michael for the PX's inaugural
ride to Spectre
, I was hit by a car.
Technically the car put itself in front of me, but the result was still a trip to the ER, concussion, and a few nights stay in hospital to make sure the laceration in my liver didn't require surgery (it didn't). Way to hit me in the most important organ for scooter rallies. At least my full face helmet and head-to-toe gear did their job and I escaped without broken bones.
Heart rate monitor made my finger smell funny.
Everything after felt a bit like a dream. All resources shifted from traveling and equipping out the new PX, to healing, legal repercussions, and dragging the corpse of my PX to Fred's for repair. For this many miles on the road I've been lucky to call this the worst accident, but I was in a regular bit of pain and dispirited with my new limits. Obviously, Spectre and subsequent riding plans were scrapped. I retreated to Fred's at the end of May, thankful to be in his arms but not quite the way I intended to land in Cambridge.
Work deadlines loomed. Full recovery came gradually (I'm a terrible patient), for myself and the PX. It began to feel like a past life, when I lived on a bike. And did I mention the daily lonely tedium of work, which is never as enthralling as the loneliness of open road.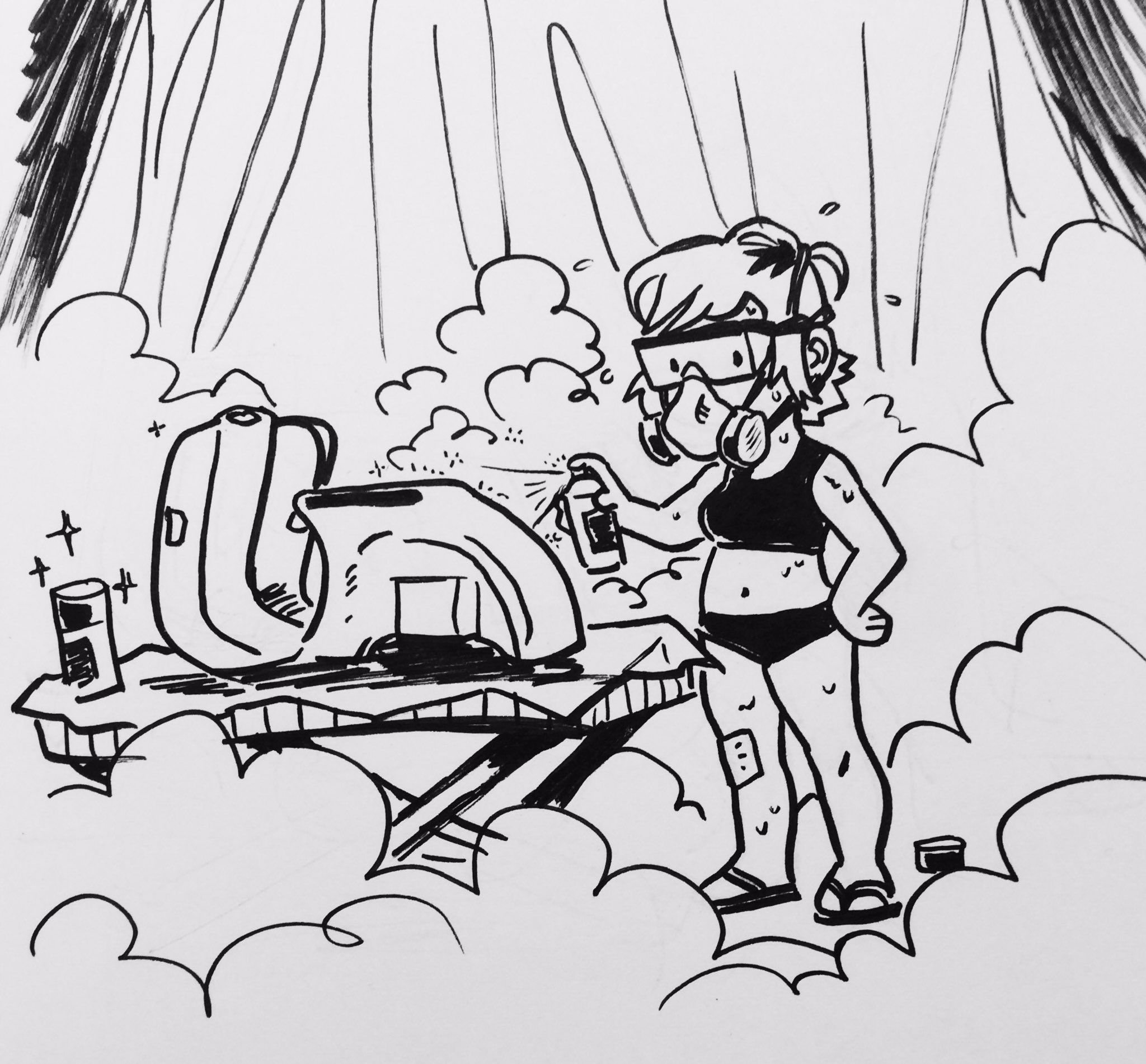 Found a happy moment working on my body though.
The already short northeastern summer riding season slipped away beneath me like slick tires on freshly rained pavement. I did manage to ride CORSette, and
Fred and I drove
to
Lammy Jammy
in July. I retrieved Serenity for a
short but glorious jaunt around California
. Back east, I borrowed Fred's trusty GL to
my agency
retreat in Burlington, VT and the
NE Rally
in August for shenanigans. When
my PX
was finally rebuilt, we rode to the Kancamagus for a raucous weekend with good northeastern scooter trash, and then took a 2-day journey to Gettysburg, PA to see the folks at
NSP
.
Borrowed Fred's smallie.
So actually, despite my 'healing' we managed to do a few things in summer, but it doesn't quite feel the same, driving to rallies. The 2-day range for me is practically local.
I wonder if it's a disorder in itself, that depression threatened to permanently descend on me without journey in my feet. I combed forums for extended overland travelers, desperately seeking advice on adjusting to a fixed location lifestyle again. I made an effort to sign up at local BJJ schools again. It's serendipitous the two ended up going hand in hand, working on my jitsu may be my best reason to 'stay stuck'. It would also help me stay sane, while completing book illustrations due in November.
Bonus: learned how to tie my belt in a way that sort of stays.
With my little studio set up in the corner of Fred's office and all this time in one place, a few people have asked, "Are you moving to Boston now?" Answer: Not quite? "What about Serenity, is that over?" It appears in spite of my ardent opposition to long distance relationships I've found myself in yet another one...with my bike.
The question in the back of my mind never abated,
What now?
I've long ago checked off my original plan of visiting the four corners. It's a happy change to be close to Fred, but it meant being far from my primary overlander.
I ended up staying in Cambridge until December, which brings us up to speed.
Kramping on.
Thank you to everyone who bought some cards and art from me to
help fund scooter parts
! Work is handed in, and plans are set in motion – it's time to blow up the cozy life...again! On Dec 17th, I'm flying to San Francisco, breaking Serenity out of storage (thanks as always, Pete!), and fixing her up for more long haul riding.
Perhaps I'll catch up on posts about riding from Austin to Vegas too, but I don't feel the same pressing need to share. I aim for transparency in my writing, but in truth even autobiographical stories are inherently curated to display the side of myself I wish to show (Lucy Bellwood, another adventure cartoonist, has a wonderfully composed
essay on autobiographical avatars
). That ride across the country with Fred was beautiful, but perhaps there are some journeys that are reserved just for me.
Besides, all my most updated wanderings are posted to
Instagram@quezzie
and that's all pictures, you don't even have to read.
In the meantime, I'm headed to my parent's home in Hong Kong for a couple weeks. Living on my bike for a couple years meant not making my annual journeys to see my parents, so it's about due. If you're in the Bay Area though (and especially if you have work for an artist-scooterist), I might be hanging around for a while...
What does 2017 promise for extended travel? Fred's has become something of a base camp, which subtly changes the nature of expedition; in planning future travel, there is less pressure to live onboard indefinitely. An extended trip can be planned with a return, which represents a paradigm shift for my approach to travel – you could say I designed my trips to never have to come back, but what changes if I have a reason to return? What changes if I plan travel (fingers crossed) with a companion?
And let's be honest, I really hope
Alaska
or
Europe
comes up in this conversation.
Here's to more riding in 2017!